Frost & Sullivan has released a new report into the changing landscape of software license management.
The research indicates suppliers are increasingly adopting purpose-built software enforcement solutions, as the value over in-house development and maintenance becomes clearer.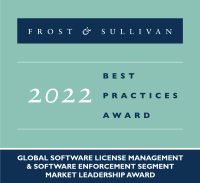 Download your free copy of the global forecast to see:
The market trends impacting software suppliers and device manufacturers over the next five years
How hardware enforcement (i.e., dongle licensing) is set to rapidly decline as electronic enforcement grows
Guidance and best practices for implementing software licensing solutions
Revenera Earns Frost & Sullivan's Global Market Leadership Award for the Software Enforcement Segment of the SLM Market
Based on its research, Frost & Sullivan named Revenera as the Global Market Leader in the software enforcement segment of the software license management industry. Download the Global Analysis report to learn more.