Frost & Sullivan has released a detailed report into the changing landscape of software enforcement, and how it relates to the broader context of software license management. The research indicates publishers are increasingly adopting third-party software enforcement solutions, as the value over in-house development and maintenance becomes clearer.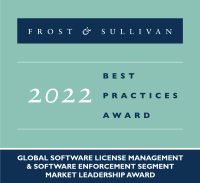 Key findings from the global forecast include:
The trend toward SaaS and intelligent devices will accelerate growth in the software enforcement market


Growth in hardware enforcement (i.e., dongle licensing) is set to rapidly decline as software enforcement grows in popularity


Industrial Automation, Consumer Mobility, and Communications are some of the key sectors where software enforcement is expected to grow, enabling publishers to leverage insights from usage data
Download the Frost & Sullivan report by completing the form for more details on trends and drivers in software license management and its impact on your business.
Revenera Earns Frost & Sullivan's Global Market Leadership Award for the Software Enforcement Segment of the SLM Market
Based on the results of its research, Frost & Sullivan named Revenera as 2022 Global Market Leader in the software enforcement segment of the software license management industry.
Frost & Sullivan recognized Revenera for Implementation Excellence, Product Differentiation, and Customer Service Excellence. You can read the award report along with the Global Analysis research by completing the form.