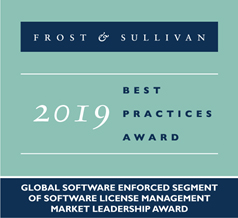 Recognizing Revenera's continuing excellence in delivering innovative licensing and monetization solutions, analyst firm Frost & Sullivan has awarded Revenera the 2019 Market Leadership Award for the Software Enforced Segment of the Global Software License Management Software Market.

Revenera earned the Market Leadership Award by excelling in several key areas:


Demonstrating a strong growth strategy through the continued evolution of the Revenera Monetization Platform and becoming the de-facto standard for many market segments including EDA, CAD and CAM.
Maintaining brand strength in the software enforcement segment in North America, a fast-growing market and the focus of modern licensing technology.
Building quality monetization products, supporting multiple monetization and deployment models, providing insights into customer, products and channels, and delivering secure updates to connected and disconnected devices.
Providing strong price/performance value, enabling companies to grow revenues while reducing costs through streamlined software operations.
Download the report now and learn more about how Revenera earned the Frost & Sullivan 2019 Market Leadership Award.

For more analysis of the software licensing market, download Frost & Sullivan's report, Global Software Licensing and Monetization Market, Forecast to 2025